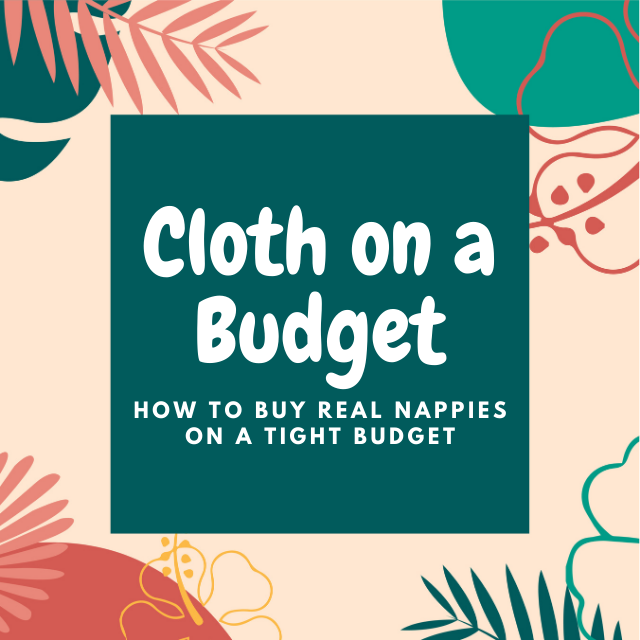 Cloth on a tight budget
Cloth nappies can feel, or seem, like a really expensive option at first glance. It is true that there is an upfront cost to cloth which disposables don't have.
We wholeheartedly believe that no body should be excluded from option to use cloth nappies and so we have put together this blog post to detail some of the best ways to cloth on a tight budget.
We previously published a post titled How much are reusable nappies? and concluded that whilst it can be done for as little as £150 the upper limit really has no ceiling. Whilst £150 represents excellent value for money it doesn't address the problem of the upfront cost to buy. To learn more about the cost of a basic set of terry towelling nappies then this post is available here.
Nappy Libraries
There is a UK wide network of nappy Libraries as well as private retailers who offer kits to hire. These kits are a great way to try various types of cloth nappies over an agreed period of time. The librarian will give you advice about everything included in the kit to help you on your way. Some libraries, from time to time, may offer long term loans of older stock or indeed sell off older stock for very low prices in order to raise funds for newer items. All brilliant ways to use real, or cloth, nappies for little money. Since the onset of the Covid-19 pandemic many libraries are offering postal loans. This means that if there are no open libraries nearby, there will be one who can post. To find out more about where these libraries are follow this link to the UK Nappy Network interactive map.
Preloved Nappies
Cloth nappies are usually made to last. They can be used on multiple babies and there is a thriving second-hand market to be found on social media. There are lots of selling groups on Facebook as well as on Facebook Marketplace.
Before buying second hand we recommend getting an idea of what types of nappy you would like to try. The preloved market can be a tempting place for anyone not wanting to miss a bargain but it's only a bargain if you know how to, and will, use something. To learn about different types of nappy read this post here titled What are the different types of cloth nappy?
What to look for when buying preloved
Ask the seller whether the PUL and elastics are in good order. PUL is a crucial part of a nappy as it provides the strong water resistant barrier between nappy and clothing. If it has failed, the nappy will not be waterproof/resistant and will leak. In most cases defects in PUL can be seen with the naked eye so it should be fairly easy for a seller to be able to check even if the nappies have not been used for a while.
Elastics are found around the leg and the back usually and without elastics the nappy will be incredibly difficult to fit correctly and will result in leaks. Elastic perishes over time so we would suggest caution if considering nappies that are more than a few years old. This only applies to those with elastic of course, a terry square could be 30 years old and perfectly functional.
Look closely at the photos for any staining. Staining can be removed and doesn't need to be the reason not to buy but the price should reflect the condition.
Ensure that the nappy is what you think it is. Don't be afraid to ask the seller questions about anything you are unsure about. Such as, does this need a wrap, does this need a nappi nippa, is this a pocket nappy, what fabric is this.
Paying for preloved nappies
Our advice is to pay for the nappies using PayPal Goods and Services. It will cost a few more pence but it provides buyer protection should the nappies not arrive or they arrive and are not as stated. Be sure to check the nappies over once they arrive as any issues need to be addressed sooner rather than later.
Look at the cheaper options of nappy
We talk about this in our How much are reusable nappies? post to a degree. We believe the most cost-effective cloth nappies, preloved or new, are flat nappies. The old fashioned terry towelling nappies used by our parents and grandparents and generations before them. They are the cheapest items to buy in that a terry nappy costs little over £2 and a prefold is slightly more. Further, pre-loved ones can be obtained for around half the cost. It is perfectly possible to buy 10, preloved, terry nappies for £10 plus postage and PayPal fees totalling less than £15. Similar figures apply for prefold nappies and if anything, they are cheaper. To go with those 10 terry nappies would be 2-4 wraps or covers. Second hand these could be as little as £2 or £3 each.
Less than £25 could be enough to get started and these nappies can be used over and over for 2 or 3 years, that represents incredible value for money and a fairly low start up cost. Remember, cloth nappies don't have to be all or nothing. Part time usage is great.
Aren't preloved nappies dirty?
No, they shouldn't be assuming they have been well washed and cared for however we would suggest giving them a good sanitise before you use them to be sure. There are various methods you can find which will ensure that any 'new to you' nappies are sparkling clean before they go anywhere near baby's bum.
Cheaper Brands
If preloved doesn't fill your heart with joy then how about looking at the cheaper brands. As a general rule, the more 'convenient' the style of nappy, the more expensive it is.
All in One nappies are usually more expensive than All-in-Two's which are in turn usually more expensive than Pocket Nappies and so on. There will be exceptions of course. Budget brands offer great, value for money, pocket nappies. Alva Baby are one of the most popular budget pocket nappies on the market today. Costing about £5 per nappy (new) and inserts are £1-2.50 roughly. One pocket and one bamboo insert would cost around £7.20. ELF Diaper and Bells Bumz are both also brilliant quality pocket nappies at a marginally higher, but not premium, price point.
*We are closed during the Autumn of 2021 and so the product links will show as out of stock*
Mix and Match Preloved and New
There is no reason not to mix and match. We bought new pockets for our daughter but used pre-loved prefolds and threadbare terries to stuff them. Even everyday items like cotton flannels can make incredibly cost-effective inserts/boosters. I'd go as far as to say any old absorbent fabric will work inside a pocket nappy to a varying degree.
Final Note
If budget allows, reusable wipes are a great cost saver in the long term. Even starting with cloth wipes before nappies could help save a few pounds to put towards the nappies. Again, old cotton flannels or cut up old clothes can make perfectly functional cloth, reusable, wipes.
PS
The cloth community is kind and welcoming and often people are happy to give away items for free. For anyone really struggling to purchase, make a request in the selling groups. Often people have a few of older nappies they no longer reach for that they would happily pass on to a good home for the cost of postage. The whole point of cloth nappies is to reduce landfill and one great way to do that is to give the cloth nappies already out there as long a life as possible.