Frog and Bear (FAB) Nappies and Inserts: Explained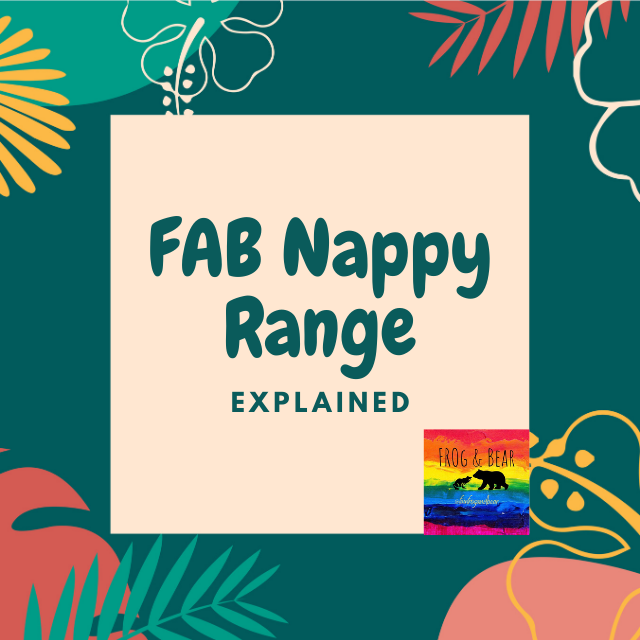 FAB Nappies and Inserts: Explained
Introducing FAB Nappies, by Frog and Bear
Brought to market by Alex, the woman behind Frog and Bear, the entire FAB range is handmade.
The nappies are made in Uganda by the amazing and talented team of women at the social enterprise Kijani Baby. Kijani Baby employ local mothers ensuring they work in good, safe conditions and are paid a fair wage.
The gorgeous prints are exclusive to Frog and Bear nappies and are the result of Alex's own vision turned into designs by some incredibly skilled designers.
The FAB range
The range includes newborn wraps, birth to potty wraps, Junior wraps and birth to potty pocket nappies and Junior pocket nappies.
Wraps are birth to potty size (circa 3-15kg) and made with a PUL outer and a PUL inner so they are double PUL with lovely soft rolled leg elastics. These wraps are really versatile. perfect over a terry, a prefold or a fitted nappy but that's not all. The wraps are complete with a snap towards the back offering the flexibility of becoming an All-in-two (AI2) nappy when coupled with a FAB snap-in insert or a set of Bells Bumz Z Soaker and Boosters.
XL/Junior Wraps are just the same as the birth to potty sized wraps however they fit approximately 13kg to 30kg and are available with XL size inserts.
Pocket Nappies are birth to potty size (circa 3-15kg) and made with a PUL outer, a suede cloth inner and come complete with 2 rows of rise poppers that make the size adjustable.
XL/Junior Pocket Nappies are just the same as the birth to potty size wraps however they fit approximately 13 to 30kg.
FAB Inserts
FAB inserts are handmade in the UK by Alex, the owner of Frog and Bear, and her family and friends – all work at home makers/work at home mums (WAHM). They are made with 3 materials, a layer of each. Bamboo Terry, Zorb and Hemp. Zorb is not commonly found in cloth nappy inserts due to it's high price tag however Alex, in her drive to ensure these are as absorbent as possible, has chosen to use it despite the cost whilst still offering them for sale at a fair and reasonable price. Finished with a vibrant rainbow trim they are a perfect partner to the FAB range of nappies with a specific insert for each nappy to ensure the best possible combination.
Materials
Zorb is a blend of bamboo viscose, cotton, organic cotton and polyester fibres. It's thin, thirsty, hypoallergenic and safe for baby. It soaks up liquid as a rapid rate and absorbs around 10 times it's weight in under two seconds!
Bamboo, or bamboo viscose, is common place in cloth nappy inserts. It's a great fabric for inserts as it can absorb a useful amount of liquid. It is made from the fibred of the bamboo plant and processed into a substance called bamboo viscose.
Hemp is one of the thirstiest fabrics found in cloth nappy inserts with a similar absorbing speed as bamboo. All in all, these inserts are a powerhouse combination of some of the best fabrics around.
Still not sure? Head over to Instagram and check out A Yorkshire Mama's review in her Instagram highlights
Warranty information is available here and the care card is available here.