How much are reusable nappies?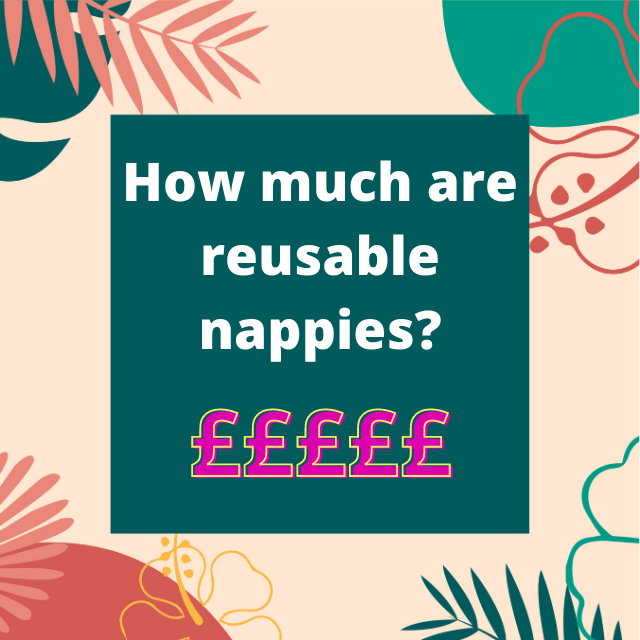 How much are reusable nappies?
Everywhere you look you read that reusable nappies save money but they seem so expensive? Here we investigate the real cost of reusable nappies. Cloth nappies are available for every budget. We believe that cloth should be an option for everyone and we aim to show, in the examples below, how cost-effective cloth can be but it does depend on the choice of nappy.
Part-time cloth?

A common misconception is that using reusable nappies is all or nothing. Full time cloth or just using disposables. Whatever your reasons for researching cloth nappies, just know, and accept, that there is no shame or failure in being a part time user. 1 nappy a day, or cloth every other day, or whatever other set up that works for you is brilliant.

The initial outlay can seem high. We understand that if using disposable nappies you wouldn't dream of buying every single nappy in one go. You don't have to with cloth nappies either. You might prefer to try a few of one type and a few of another. Buying a few here and there and building a collection as you go can work brilliantly as it gives time to form opinions. As your knowledge and confidence grows you might like to try different types of nappy, or try a different brand. That's all ok.
Real talk

We want to be super honest and tell you why not to buy 3 years worth of reusable nappies in one fell swoop. Not everyone gets on with all types or brands of nappy. If you aren't yet sure on what different types of nappy there are then have a look at our post called What are the different types of cloth nappy? You will see that Terry nappies are the most economical option (and not as difficult as they appear). Similarly, All-in-ones aren't always the magic bullet they seem.

Also prudent is to address the issue of print addiction. Cloth Nappies are so damn cute and print addiction gets to many of us sooner or later. With that in mind, it's easy to understand why there is a strong second hand market. People like to sell on nappies to fund buying new ones. At this stage you might be thinking something along the lines of 'that's crazy, they are only poop catchers', or 'it will never happen to me' but don't say you weren't warned. Knowing there is a strong second hand market you can be confident that if you buy some nappies and don't like them, or want to try some different ones, you can sell on what you have and recoup some of your money.


How much are cloth nappies?
Let's look at the real (potential) cost of cloth nappies. We have decided to leave out clothing a newborn baby for simplicity. Some babies will reach 10lb in a matter of a couple of weeks, others will take longer. Newborn babies don't require night nappies straight away.
Birth to potty size nappies are usually ok to use from around the 10lb mark and thus we have made the following assumptions;
-You will start using cloth nappies when baby reaches 10lb
-You will wash every second day
-You will use no more than 8 nappies per day

Example 1

Using 3 or 4 wraps a day and 2 nappies folded together at night time.
24 x Terry squares at £2.25 each = £54
10 wraps at £7.99 each = £79.99
Nappi Nippas x 3 = £5.95
Fleece Liners x 20 = £10
=£149.94*
In this example we have assumed 1 day drying time
*All available from us at Flora & Fauna Cloth Nappies, prices correct at the time of writing but may change in the future


Example 2

Premium All in one nappies for daytime
28 AIO at £27 each = £756
A night nappy system (required for absorbency)
3 night nappies + 2 wraps = £92 (2 kits required, size 1 and size 2)
Fleece liners at £9.50 for 10 x 2 = 19.00
=£867**
In this example we have assumed 2 days drying time
**Blueberry Simplex at £27 each at TNL, Little Lamb Bamboo Fitted Night Nappy kit from Little Lamb £42 each, Fleece liners by Little Lamb directly from Little Lamb

The reason we have assumed different drying times in the examples is because flat terry nappies will usually dry within a day however, all in one and fitted bamboo nappies will usually take longer than a day to be fully dry and usable again. As a consequence, more nappies are required.
There are many permutations of the above examples, and cloth can be achieved in many ways and can attract many a price tag.
If 100 were asked people how much their nappy collection cost, there would be 100 different answers. We have taken the prices as they stand today (27th June 2021) to demonstrate how little, and how much, cloth nappies can cost.
How much each family spends is personal choice but we believe that the ability to cloth should not be reserved for the affluent. It is a dreadful shame if someone chooses not to use cloth because they see a single nappy can cost £27 and run for the hills.
You can see then that the cost of using cloth nappies can vary greatly. If you want to know whether reusable nappies are cheaper than using disposable nappies then the answer really is up to you. They can be, but then they also might not be if more expensive nappies are the preference. Wherever you stand on the cloth v disposable debate, it is perfectly possible to 'prove' both sides of the argument.
A few further points to consider
Reusable nappies do not only last 1 child. 1 collection of nappies can be used on subsequent children. They can be lent to friends whilst not required. £149.94 could be the total cost of nappies for 2, or 3, or 4, or more children depending how spaced out they are. The terry nappies could even be used on subsequent generations!
Reusable nappies can be sold. Cloth nappies have a great resale value and even after they have been used on a few children over a number of years, assuming they are still in fair condition there will be a buyer. You could cloth 3 children for £149.94 and still recoup £30 or more once they have all potty trained.
Cost is not the only reason to choose reusable nappies. There are lots of other reasons to consider cloth nappies. They are more environmentally friendly, they don't fill up landfill sites (or your household bin). Reusable nappies are kinder to baby's skin and contain no strange chemicals and they don't take up space in the supermarket trolley!
A disposable nappy can outlive it's usefulness is less than 10 minutes but if baby soils a lovely fresh and clean cloth nappy it's not an issue. Just change the baby and add it to the wash pile. That same nappy will be back on the bum in no time at all and won't go near the bin!
We hope that we have helped to clarify the reality of the cost of reusable nappies and shown that cloth is accessible to almost everyone.