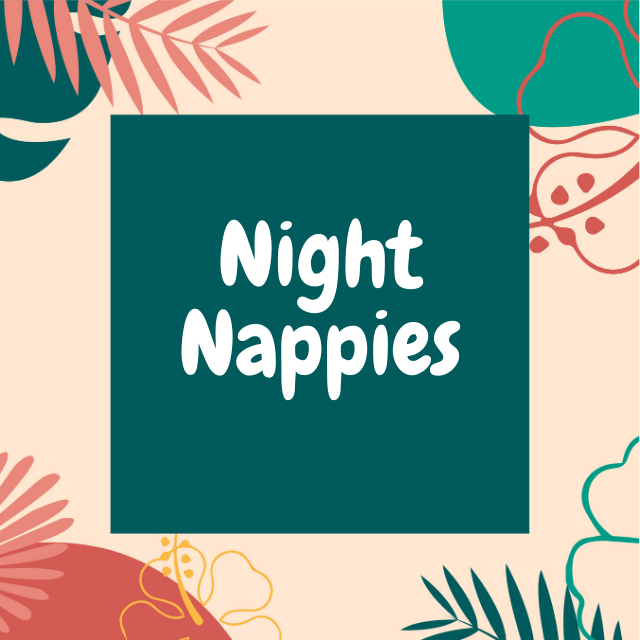 Night Nappies
Night time cloth nappies can feel like a big leap of faith but one that many parents want to take. We will guide you through a few options further down the post.
For a nappy to be a night nappy it simply needs to be absorbent enough to last as long as baby is wearing it. If a baby sleeps 12 hours straight then the nappy needs to be able to last around 13 hours to be a successful night nappy.
Some people quite successfully use the same nappies at night as they do in the day and find that just an extra booster is enough to make it last. Unfortunately, many people find this isn't enough and a nappy needs to be far more robust to last the full night.
What Nappies make good Night Nappies?
We have a few suggestions;
a. A Bamboo Terry/Flat Nappy plus a booster.
Bright Bots Bamboo Terries are 100% Bamboo, Bells Bumz Bamboo Flats are 80% Bamboo and 20% Polyester. Little Pants SuperPee terries are 100% bamboo woven onto a polyester frame. All are really good options for a night nappy when combined with a booster (as required).
Which booster? We think the Bright Bots 100% Bamboo 3 layer pairs brilliantly with their bamboo terry. Similarly, Bells Bumz designed their double hemp and coffee fleece insert to be used alongside their bamboo flat. Both are great pairings but you can mix and match as you please.
b. Little Q-Dos Nappy by Little Pants. The Little Q-Dos is similar to a flat nappy in that it folds out to a single layer and it needs folding however the folding is very simple and less origami like. The folding is only to make the nappy the right size for your baby. Made from 100% Bamboo loops woven onto a polyester frame (so slightly less than 100% overall) the Little Q-Dos comes with 2 long boosters which gives a really absorbent and simple solution.
c. A fitted nappy such as the Alva Baby Bamboo or the Bells Bumz Hemp and Bamboo fitted nappy. The Bells Bumz is more absorbent that the Alva Baby. It has more layers and includes hemp which is a more absorbent fabric. It is also more expensive. The Alva Baby fitted nappy almost certainly needs boosting to help it last the night but a good booster - such as a hemp - gives it a good chance. Or, the higher priced Bells Bumz fitted nappy is a robust nappy on it's own although some people still need to boost.
How Much Do Night Nappies Cost?
For a Bright Bots Bamboo Terry plus bamboo booster the price is £5.25 for both.
For a Bells Bumz Bamboo Flat plus hemp/coffee booster the price is £8.75
For a Little Pants Bamboo Terry plus a bamboo booster the price is £7.50 for both.
For a Little Q-Dos Nappy the price is £9.50
For an Alva Baby Bamboo Fitted plus a Bonny Bots hemp booster the price is £10.98
For a Bells Bumz Hemp and Bamboo Fitted the price is £12.99
PLUS a wrap. All these options require a wrap over the top. We recommend a PUL wrap but other options include wool or fleece covers.
*We are closed during the Autumn of 2021 and so the product links will show as out of stock*
PUL Wraps
We have a few options to choose from priced from £4 and they can all be viewed here
Considerations
Most families will find that a two-part system, such as those outlined above, are needed to last the night but you might be an exception. Why not try out a boosted pocket nappy or a boosted all in one and find out whether you are one of the lucky few.
Does baby feed through the night? It stands to reason that if baby is still feeding regularly through the night they will wee more than a baby who doesn't and thus a more absorbent nappy is needed.
A final consideration to make is do you have space to dry nappies for potentially 2 or 3 days during the winter? If not then thick and thirsty fitted nappies might not be for you - a terry dries far quicker.
Conclusion
There are a number of options to choose from at different price points to suit. Budget often drives purchasing decisions but that doesn't mean a compromise on reliability. A boosted bamboo terry never fails us with our baby but if you don't fancy folding a terry ad your budget allows then why not go for a fitted nappy.
If none of the above options interest you then there are many more on the market. Mainly fitted nappies by different brands. We believe the most important thing to consider is what material is the nappy made from. A fitted nappy made from microfibre is unlikely to last the night as the fabric is at the lower end of the scale when it comes to how much liquid it can absorb but a fitted nappy made from bamboo or hemp stands a very good chance. Always look for options that are at least bamboo and if possible hemp as well. For more information on the different fabrics look at our Guide to Insert Absorbency in the Free Downloads section.